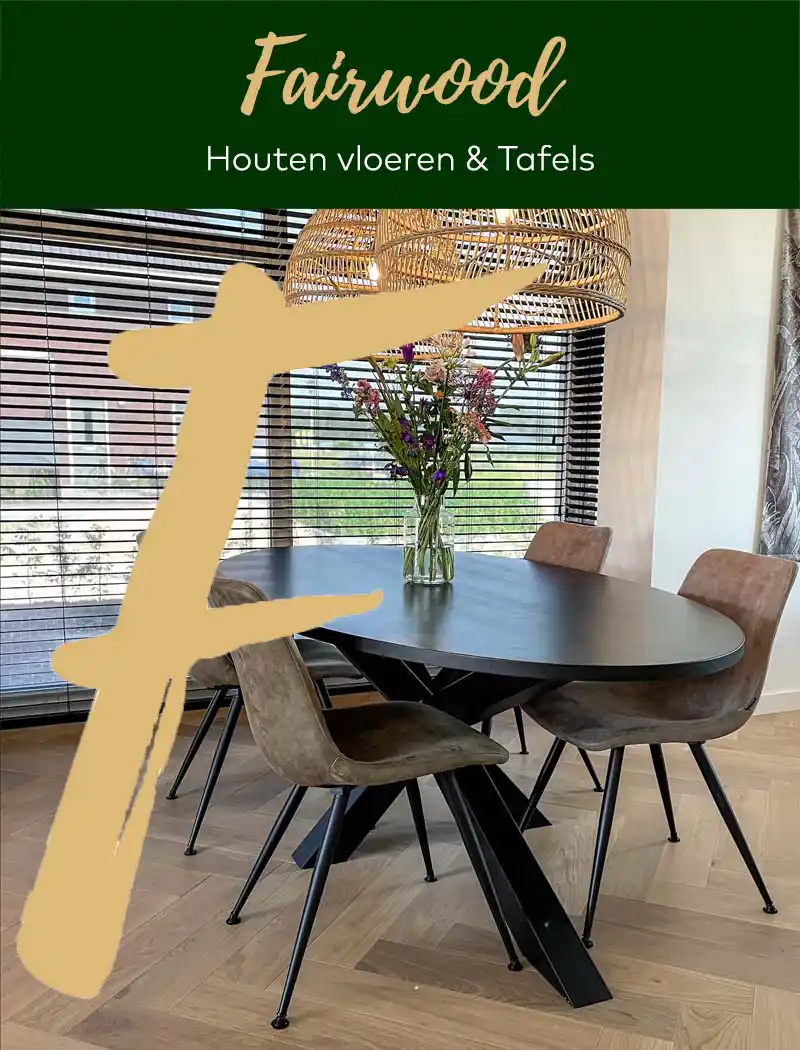 Wooden Dining Table
with wooden legs
with metal legs
Oak Table Danish oval
€ 530 incl. BTW
From stock available
Dining Table – Choose from 40 Different Table Models
Solid wood or metal leg oak tables. Rectangular tables, Danish oval, oval, round, square.
Oak tables; wooden legs or metal legs.
Tables rectangular, Danish oval, round square
Come and visit our showroom in Tiel or Rijnsburg (near Katwijk/Noordwijk) to explore our range of wooden floors and tables. :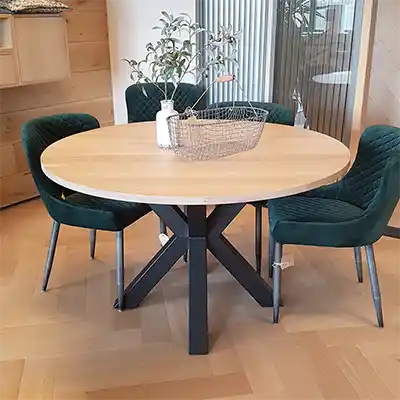 Questions about buying a dining table
Which dining table models?
Prijzen + info modellen tafels
What are the Most Popular Tables today?
Which type of wood table(top)?
Fairwood offers tables or table tops in a variety of wood types. Choose from Oak tables, Walnut tables, Ash tables, and Maple tables. All our tables are made from solid wood, ensuring authenticity and durability. No veneers, just genuine, high-quality wood. Find the perfect wood table for your space at Fairwood.
Wooden Legs or Metal Legs?
Choose from our range of dining tables with either solid wood legs or black powder-coated legs. Most of our tables are available for immediate delivery. Visit Fairwood for more options. Wooden Legs or Metal Legs? You decide!
Which table model?
Our extensive collection of 40 table models guarantees to cater to every taste and complement any interior. Whether you prefer the classic appeal of rectangular or oval tables, the unique charm of Danish oval or round tables, or the contemporary allure of square tables, we have the perfect fit for you. Our diverse range includes elegant and modern designs, featuring sleek lines and slim profiles, as well as robust and rustic dining tables with thick tops that exude charm and durability. Choose from tables adorned with natural edges or those with rounded edges, adding a touch of individuality to your space. Furthermore, if you have a specific design in mind, our skilled craftsmen in the factory are more than happy to bring your vision to life. Explore our website today at fairwood.org.uk and discover the ideal table model that will enhance your home.
What are the standard sizes?
The standard sizes of rectangular dining tables are:
– Up to 200 cm: 95 cm
– Between 200 cm and 300 cm: 100 cm
The standard size of oval dining tables is 117 cm.
The standard sizes of round dining tables are: 120 cm, 130 cm, and 140 cm.
The standard sizes of square dining tables are: 120 cm, 130 cm, and 140 cm.
Custom-made model or size?
Fairwood manufactures its tables in our factory in Bulgaria, allowing us to accommodate custom sizes. The price for these custom sizes is comparable to the tables we have in stock, ensuring affordability. After placing an order, the estimated delivery time is approximately 8 weeks. Additionally, our factory can also explore alternative designs if you have a specific table in mind. Simply provide us with a drawing or photo of your desired table, and we will request a no-obligation quote from the factory. Fairwood is dedicated to providing you with tailored options and exceptional service.
Choose Your Own Tabletop
At Fairwood, you have the opportunity to personally select your own tabletop in Tiel. Our wooden tabletops are made from a natural product, meaning each one is unique. By choosing your own tabletop, you can ensure that it meets your specific preferences before making a purchase. For customers ordering from our Rijnsburg showroom who are unable to physically view the tabletops, we have a solution. We will send you photos of the available tabletops, allowing you to still choose your own. You can select from photo 1, photo 2, or photo 3.
Mixing Colors Yourself?
At Fairwood, we provide you with the unique opportunity to personally mix color pigments for your table, allowing you to create your very own one-of-a-kind color scheme. Once you have crafted your desired color, our skilled workshop will expertly apply it to your table. Explore the art of mixing colors yourself and learn more at Fairwood.org.uk.
Lack or oil finish?
Is oil or lacquer a better choice? Oil penetrates the first few millimeters of the wood, while lacquer forms a surface layer. Many people think lacquer is shiny, but there are actually ultra-matte lacquers available. They give the appearance of untreated wood. Both oil and lacquer finishes can be enhanced with personally mixed or chosen color pigments. If you prefer low maintenance, lacquer is a safe choice.
Oak Table Smoking?
Oak contains tannin, also known as tannic acid. When we expose oakwood to ammonia vapor in our smoke chamber, the table takes on a brown-gray hue. The longer this process lasts, the darker the smoked wood becomes. Due to varying amounts of tannin in each plank, there may be further color variations. Additionally, sapwood does not change color through smoking. We can slightly adjust the color of the sapwood after smoking if desired. You have the option to choose between light-smoked, medium-smoked, or dark-smoked.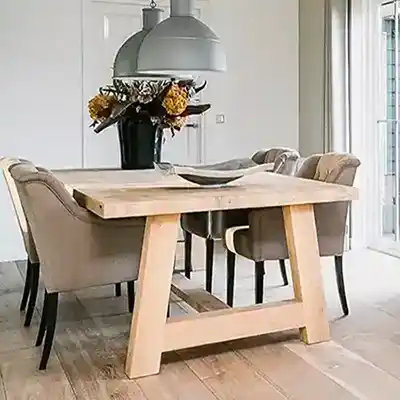 Houten vloeren luchthaven
Vlieg snel door naar de pagina die u zoekt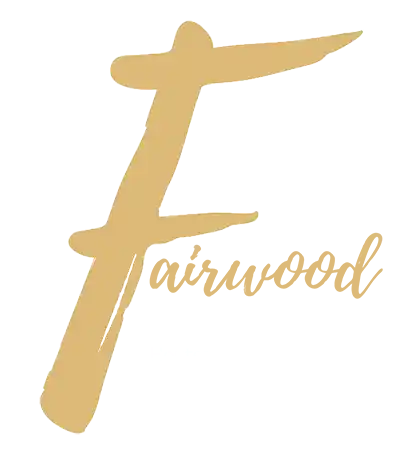 Which table would you like as your dining table?
Your content goes here. Edit or remove this text inline or in the module Content settings. You can also style every aspect of this content in the module Design settings and even apply custom CSS to this text in the module Advanced settings.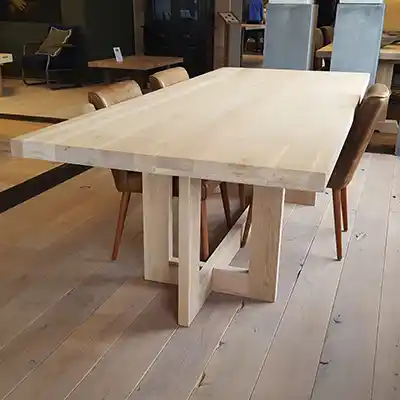 An oak table can have different shapes and sizes. There are rectangular, round and oval oak tables, all suitable for different purposes and spaces. Oak tables are available in various finishes and styles, from modern to classic and from rustic to refined.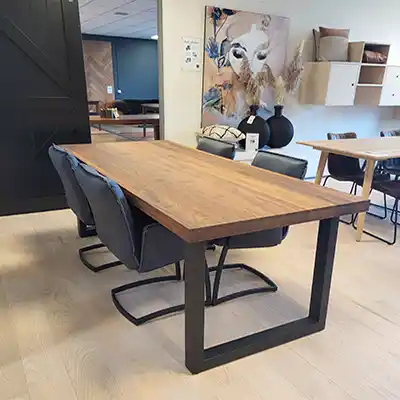 Walnut wood is known for its rich brown color and fine grain structure. A walnut table can be delivered in various models. The combination of a walnut tabletop and metal legs is also very beautiful. A walnut table is not only beautiful but also durable and strong. It is resistant to scratches and wear.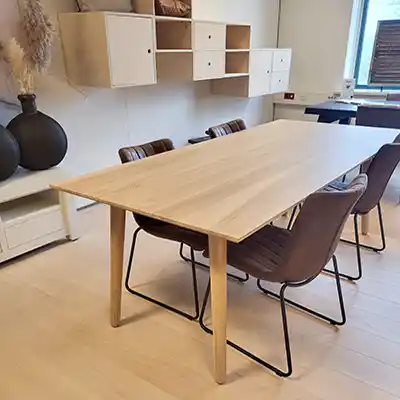 Ashwood table
Ash wood has a warm, light color with a visible grain structure. Additionally, ash is strong and resilient, making it ideal for tables. An ash table can be finished in various colors because the wood accepts stain and color oil well. The ash tables offered by Fairwood, in particular, have few to no knots.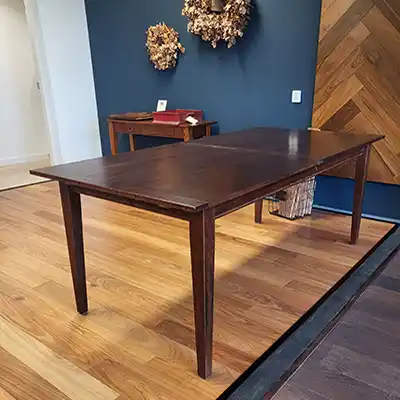 Cherry wood has a deep, warm color that ranges from light brownish-pink to dark red. The grain structure of the wood is fine and even, which creates a very uniform appearance. Cherry tables have few to no knots and can be stained very well to further accentuate the color. Fairwood offers cherry tables in styles ranging from classic to sleek modern designs.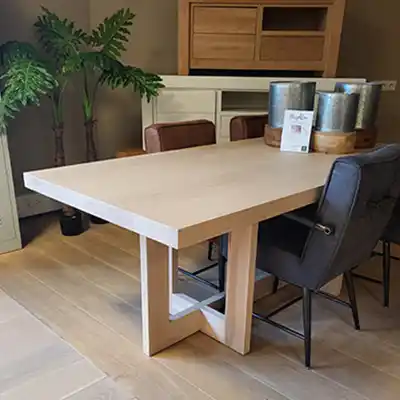 Canadian Maple is exceptionally hard and has a characteristic fine grain structure. Maple is light blond in color and looks best in its natural light wood color. However, the heartwood of Maple is chocolate brown, which creates a beautiful contrast with the almost white wood. Maple tables appear lighter than other types of wood. Fairwood offers various table models that can be made in Maple.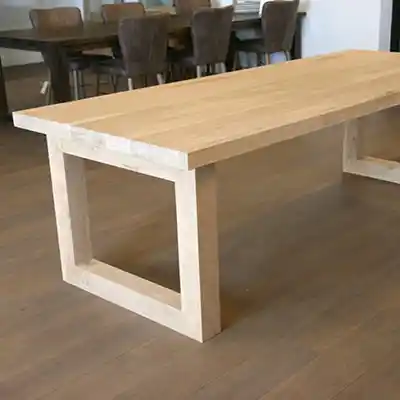 Wooden legs under a table are timeless and will continue to be the most used for years to come. The advantage of wooden legs is that they form a unity with the tabletop. Furthermore, it is much easier to customize a wooden leg to a customer's needs than a metal leg. They can be individually produced and/or colored.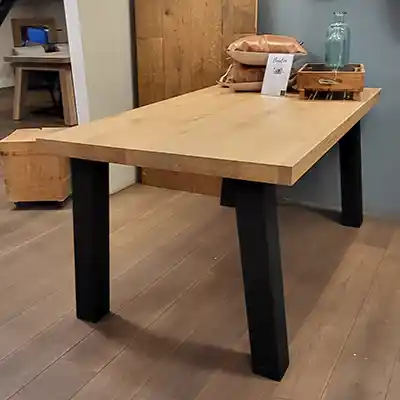 Metal table legs are available in various designs and styles. One popular style is the industrial look, where the metal legs have a rough and robust appearance. However, there are also sleek metal legs that are more suitable for a minimalist interior. One advantage of metal legs is the contrast they create with the wooden tabletop and/or a wooden floor.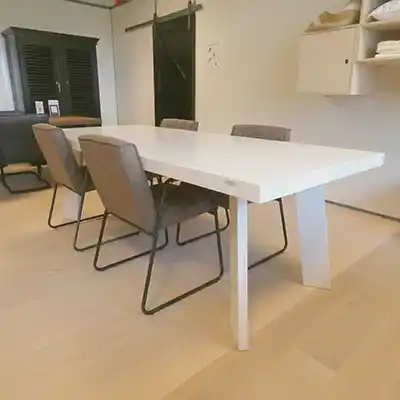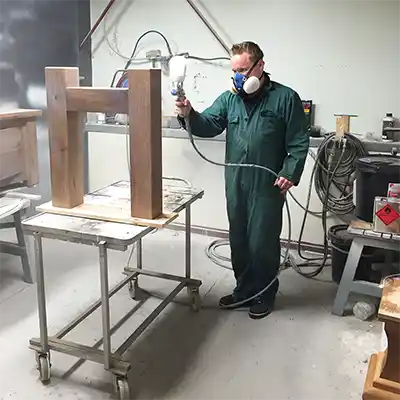 Eigen werkplaats
Fairwood heeft een eigen werkplaats waar de hier beschreven afwerkingen en bewerkingen kunnen worden uitgevoerd. Zo heeft u de meeste invloed op het eindresultaat.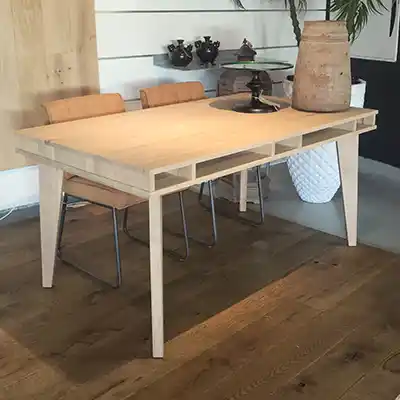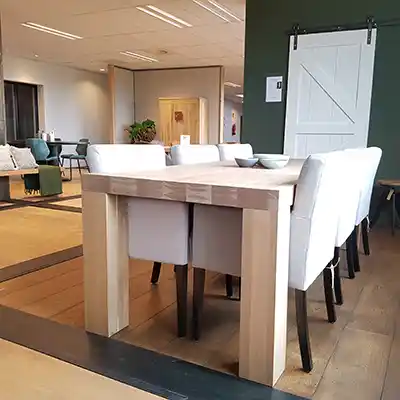 In een aantal blogs kunt u lezen welke ervaringen er zijn met de afwerking en bewerking van een houten vloer.
Which dining table is right for me?
Finding the right table is not as simple as you think
Discover Your Perfect Dining Table in
6 Simple Steps
Discover the Seamless Process of Purchasing Your Table at Fairwood.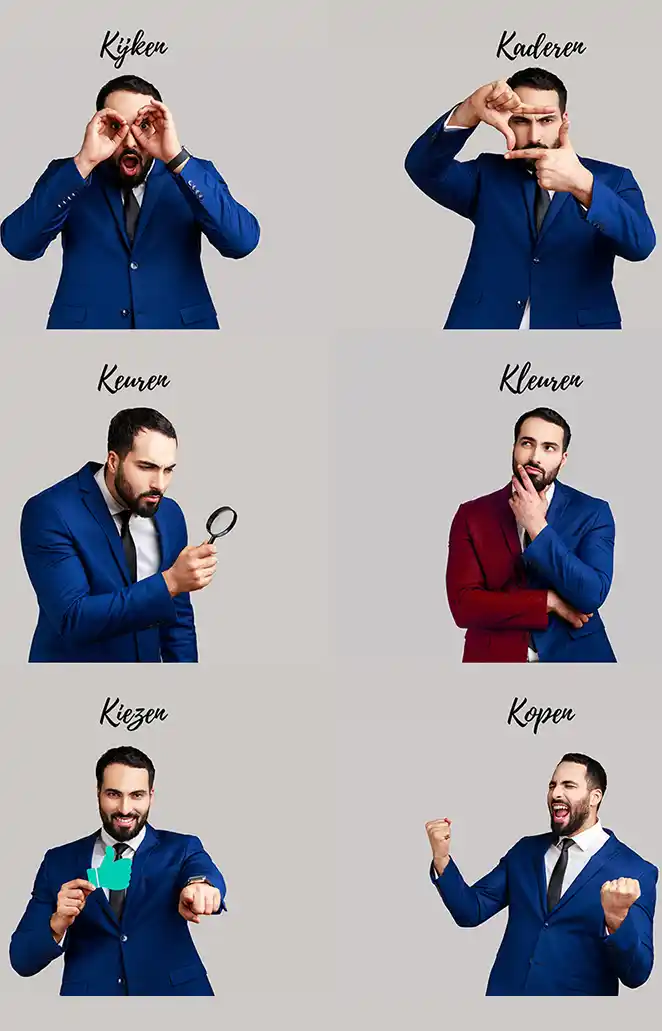 What does this method involve?
Walk Through the 6 Steps with Us
Discover Your Perfect Dining Table in 6 Simple Steps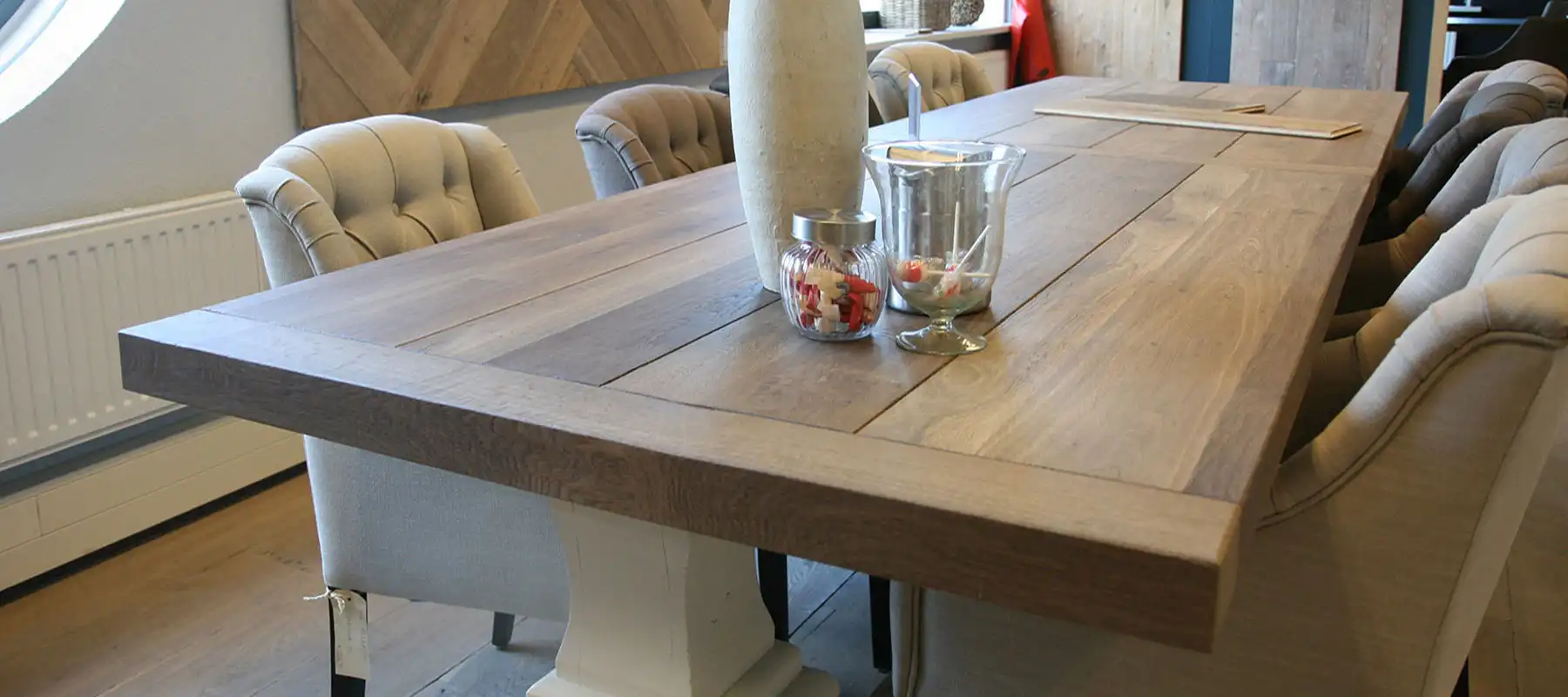 Types of dining tables with wooden legs
Wooden dining tables with a single leg or multiple legs can be finished in the same color as the tabletop. However, you also have the option to choose a different color or finish. This means that the legs can be spray-painted in any RAL color of your choice.
Check out the page: Wooden Legs
Types of dining tables with metal legs
Dining tables with a metal base or legs are finished with a black powder coat. This durable finish is easy to clean and will resist scratches and damage.
Take a look at the page: Metal Legs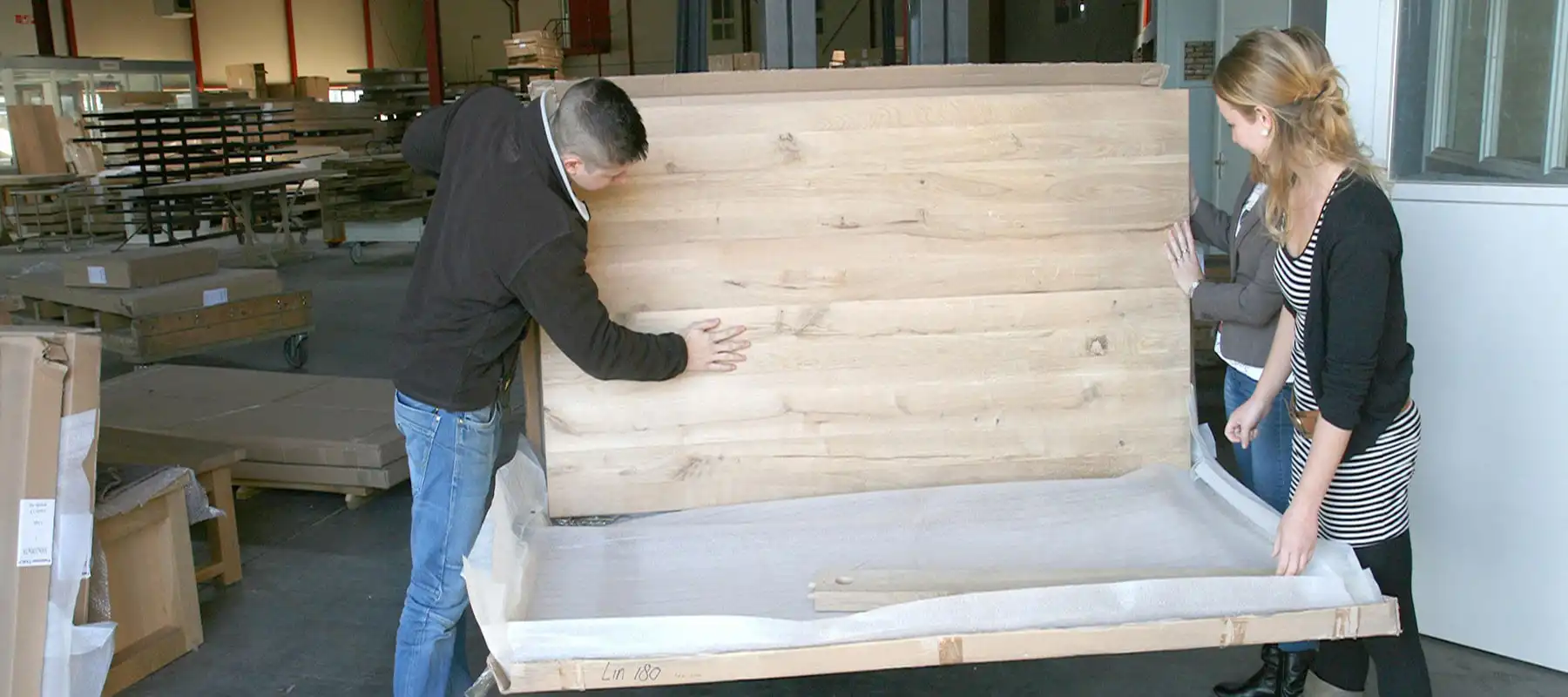 You are very welcome to visit our showroom in Tiel or Rijnsburg (near Noordwijk). You can simply walk in and no appointment is necessary. We always have enough staff available to assist you extensively. Take a look at the special pages of our showrooms.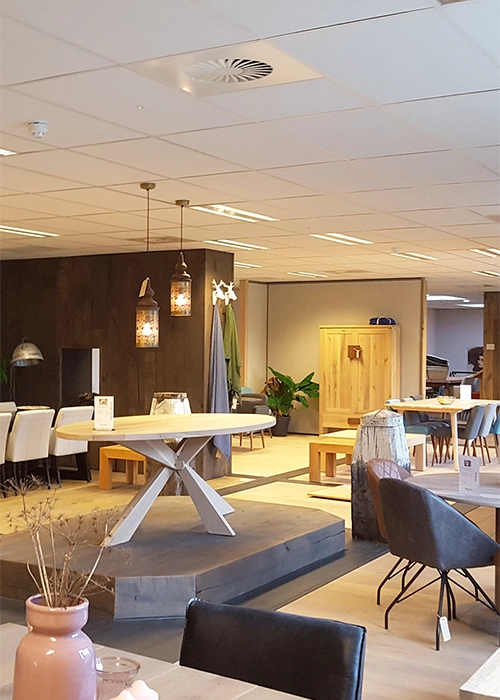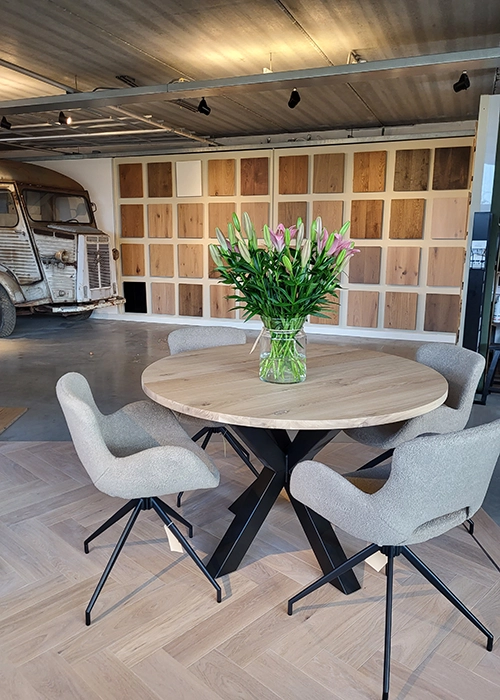 Showroom Rijnsburg (800 m2)
Thursday Evening Shopping
B
o
o
k
a
p
p
o
i
n
t
m
e
n
t
T
h
u
r
s
d
a
y
e
v
e
n
i
n
g
(Only in Tiel)
Choosing a wooden floor or table on an evening?
Book an appointment here, and we will reserve and confirm it for you. We look forward to seeing you on a Thursday evening in Tiel!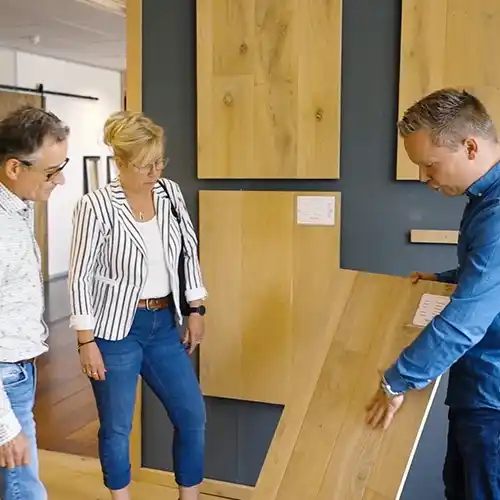 Fairwood would be delighted to send you the latest brochure. There are 3 types of brochures available, as you can see.
Complimentary and no obligation
Sending you one or more brochures is completely free of charge and without any obligations. Rest assured, we will not approach you any further after sending. The decision to initiate further contact is entirely up to you.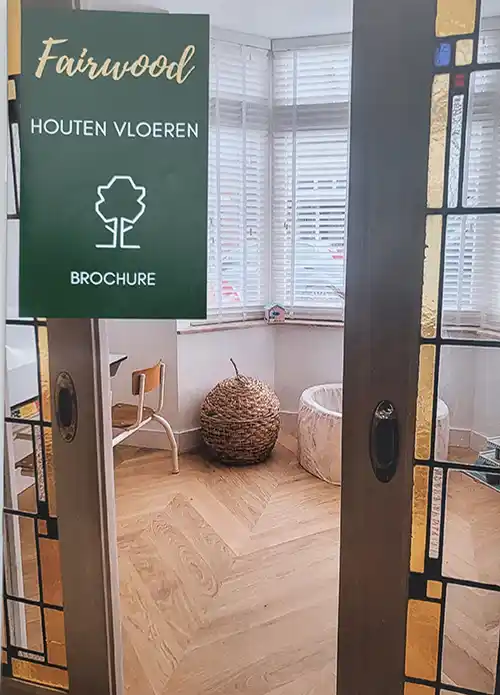 Discover the latest information about Fairwood's wooden floors.
What types of promotional floors are available and how long is the offer valid for?
Discover Fairwood's range of table models. Explore our current assortment here.