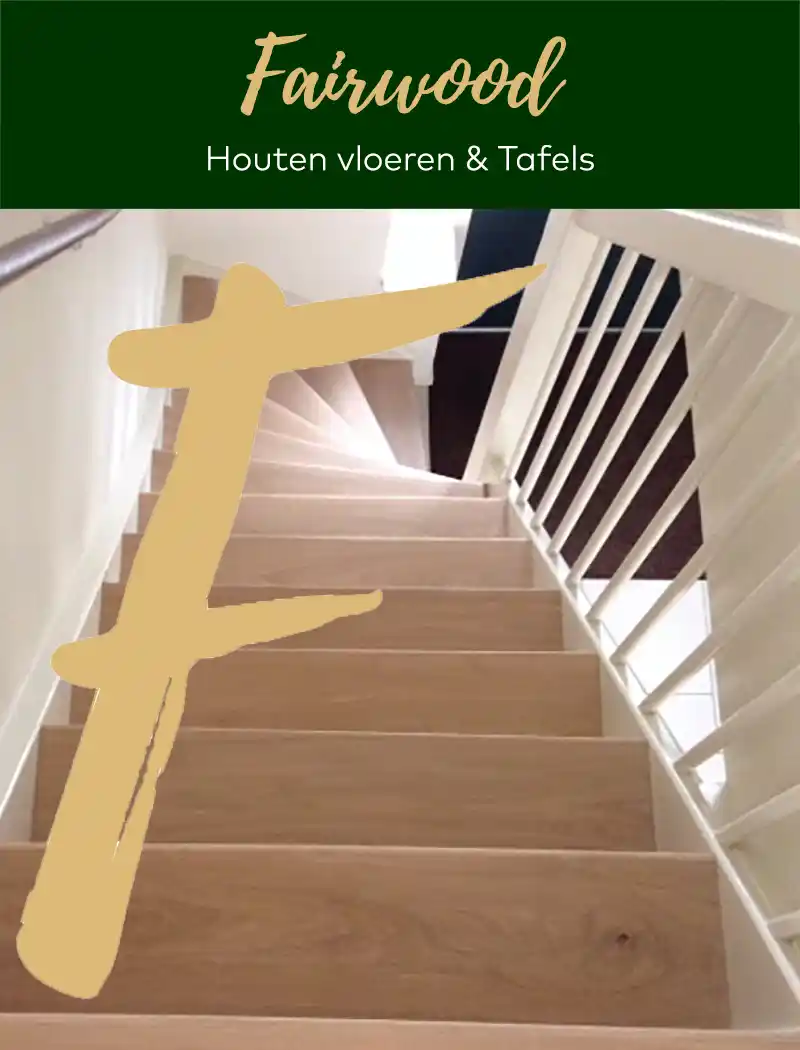 Give your
old wooden staircase
iron staircase
a new coat
Wooden Overlay Stairs for Staircase Renovation
Transforming your staircase with wooden clad steps is a popular way to change its appearance without the need for a complete replacement.
Our oak-clad steps are carefully fitted onto your existing treads. The advantage of oak cladding is its versatility in terms of colour and finish.
We can customise the cladding in our workshop to match the rest of your interior.
Imagine your staircase harmoniously blending in with your wooden flooring, sharing the same stunning finish and colour.
Additionally, our oak steps are not only durable but also easy to maintain.
When installing the cladding, we ensure thorough cleaning and sanding of the original staircase. A primer is then applied to enhance the adhesion of the adhesive.
The wooden cladding is meticulously crafted to perfect size and securely attached to the existing steps.
The result? A rejuvenated staircase with a warm and natural charm.
Opting for an oak-clad staircase renovation is a relatively simple and affordable way to add value to your home.
Practical Example of Oak Stair Treads
Metal staircase in our showroom covered with oak steps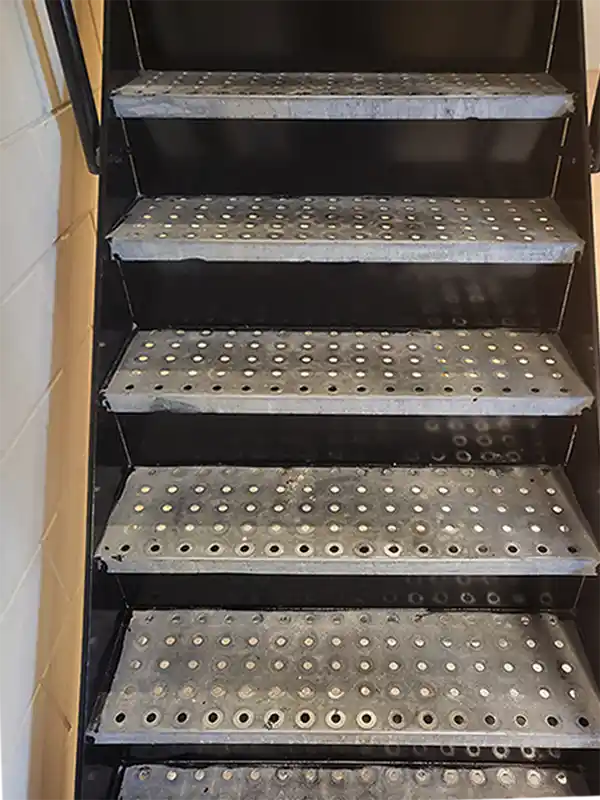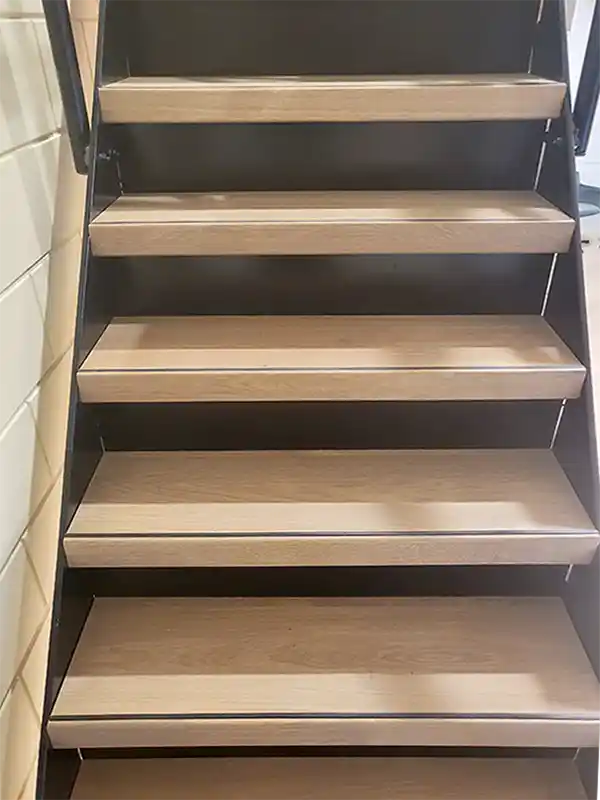 "Something quite different. Don't you think?"
Transform your home with staircase renovation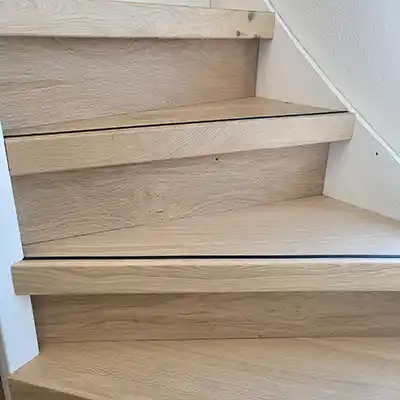 Benefits of Oak Steps Compared to Other Materials
Elegant oak treads are a popular choice for many reasons. Firstly, oak wood is known for its durability and long lifespan. Unlike other materials, oak treads can withstand years of wear and tear without showing signs of damage. Additionally, oak treads are slip-resistant, making them safer to walk on, particularly for children and the elderly. Oak is also moisture-resistant, preventing warping or rotting, making it ideal for use in high humidity spaces such as basements or bathrooms. Experience the beauty and functionality of oak treads.
The Many Possibilities of Oak Stairs
One of the great things about oak stairs is the multitude of possibilities they offer. Oak is a hardwood that can be stained or painted to complement any interior style. Whether your home is modern, traditional, or somewhere in between, oak stairs can be customized to suit your taste. Oak stairs can also be combined with other materials such as metal or glass to create a unique and stunning look. If you're looking for a classic, timeless appearance, natural oak stairs can be left untreated or finished with a clear varnish to bring out the natural beauty of the wood grain. However, if you prefer a more contemporary look, oak stairs can be painted or stained in a wide range of colours to match your decor. And if you're feeling adventurous, you can even opt for a two-tone look by staining the steps in one colour and the risers in another.
High-quality stair renovation with laminated oak treads.
Installation of Oak Stair Treads
At Fairwood in the workshop
Once you have chosen the colour and finish for the steps together with us, we can start finishing the steps. Fairwood does this in its workshop. The steps are stained and oiled or sprayed with varnish or paint. Then they are dried.
Installation at your home
You can do this installation yourself or have a known contractor do it.
You can also choose to have a Fairwood parquet installer install the steps for you.
First, the old steps are stripped of carpet and adhesive residues. It may be necessary to sand the old steps in certain areas.
Then, the stair spindles and the remaining structure of the staircase are inspected for any damages and repaired or replaced as needed.
The oak veneer steps need to be custom-made. The required size is measured tree by tree on the existing staircase.
There are panels in 2 sizes; 100cm long for straight steps and 140cm long for steps with a twist.
Two steps are cut from one panel. The cut veneer steps are then attached to the existing stair structure using glue and screws.
The edges are then neatly finished to ensure a seamless finish.
Colour and Finish of Stair Treads
Choose your own colour and finish for your staircase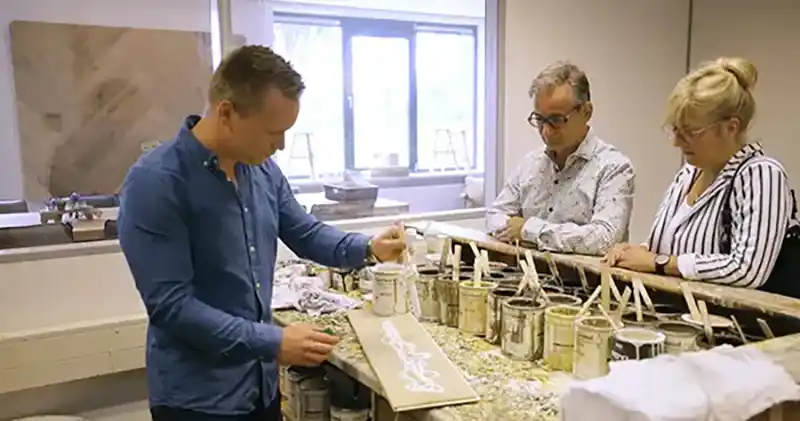 At Fairwood, we collaborate closely with you to achieve the perfect color for your staircase by skillfully blending pigments.
We value your autonomy in selecting the color that aligns with your personal style and preferences.
After the blending process, we provide you with sample boards to conveniently evaluate in the comfort of your own home, ensuring optimal lighting conditions for accurate assessment.
This empowers you to make an informed decision and feel confident about your color choice for your staircase.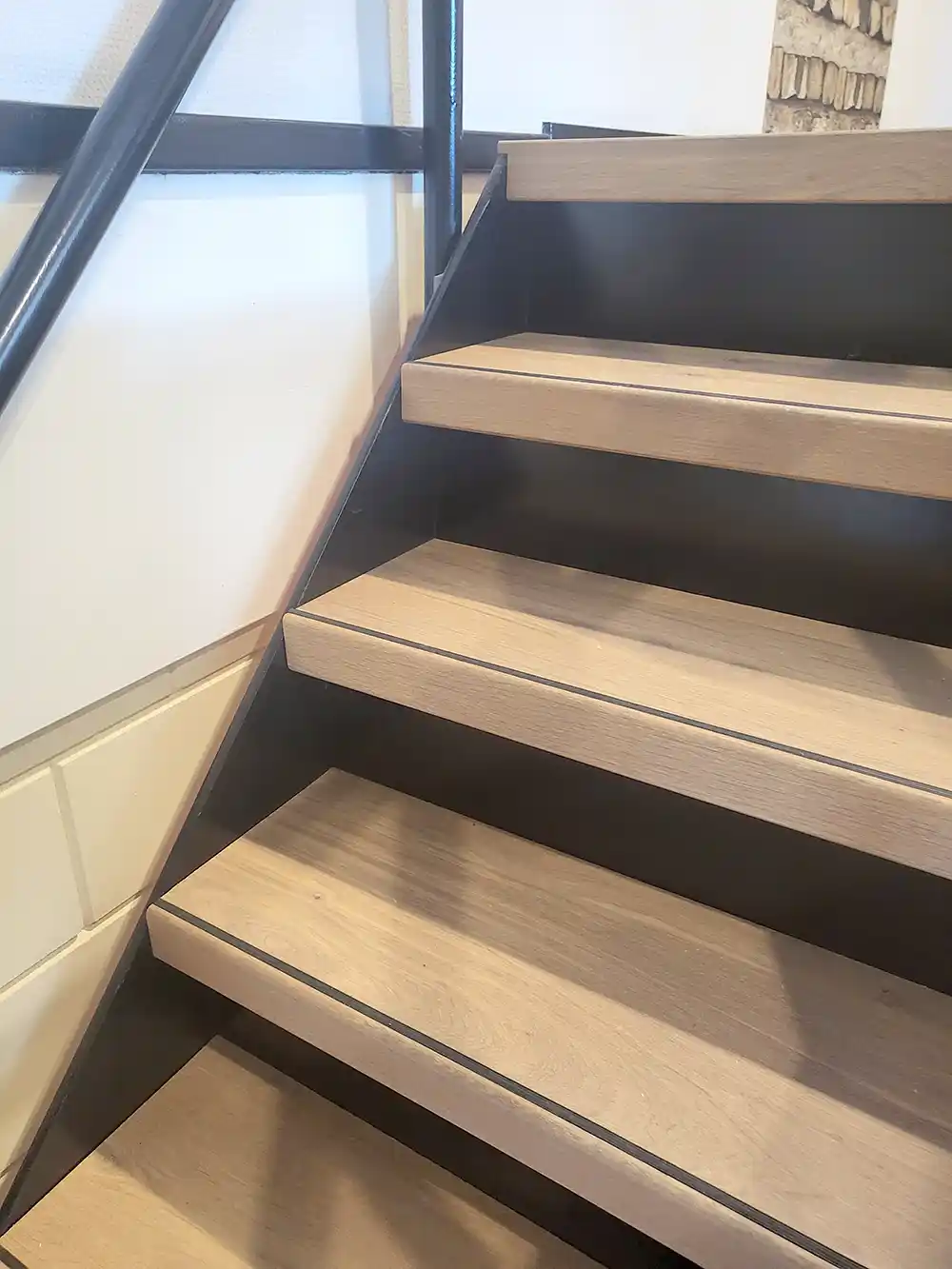 You are very welcome to visit our showroom in Tiel or Rijnsburg (near Noordwijk). You can simply walk in and no appointment is necessary. We always have enough staff available to assist you extensively. Take a look at the special pages of our showrooms.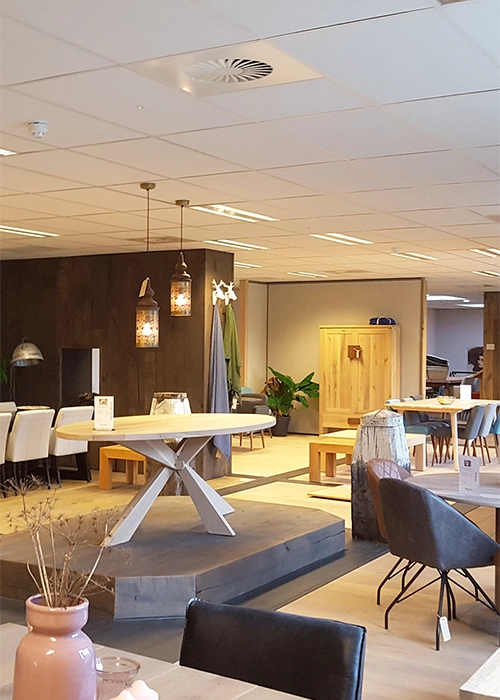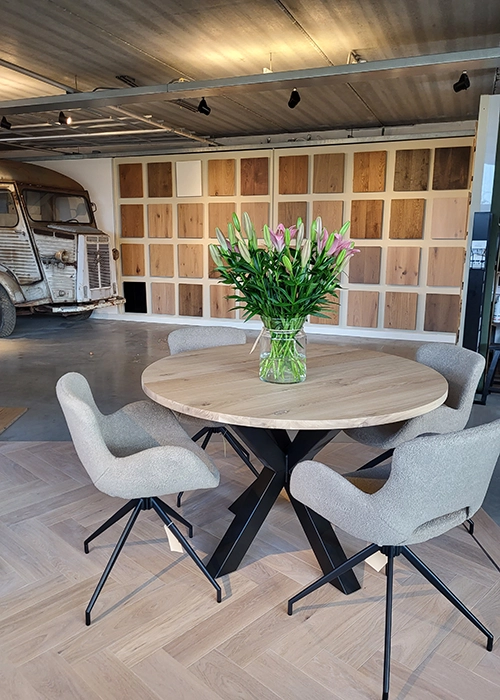 Showroom Rijnsburg (800 m2)
Thursday Evening Shopping
B
o
o
k
a
p
p
o
i
n
t
m
e
n
t
T
h
u
r
s
d
a
y
e
v
e
n
i
n
g
(Only in Tiel)
Choosing a wooden floor or table on an evening?
Book an appointment here, and we will reserve and confirm it for you. We look forward to seeing you on a Thursday evening in Tiel!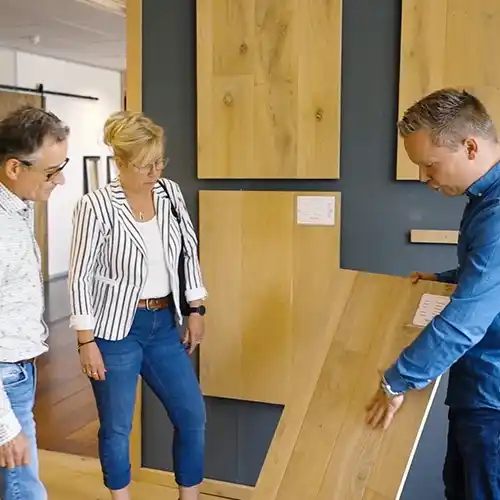 Fairwood would be delighted to send you the latest brochure. There are 3 types of brochures available, as you can see.
Complimentary and no obligation
Sending you one or more brochures is completely free of charge and without any obligations. Rest assured, we will not approach you any further after sending. The decision to initiate further contact is entirely up to you.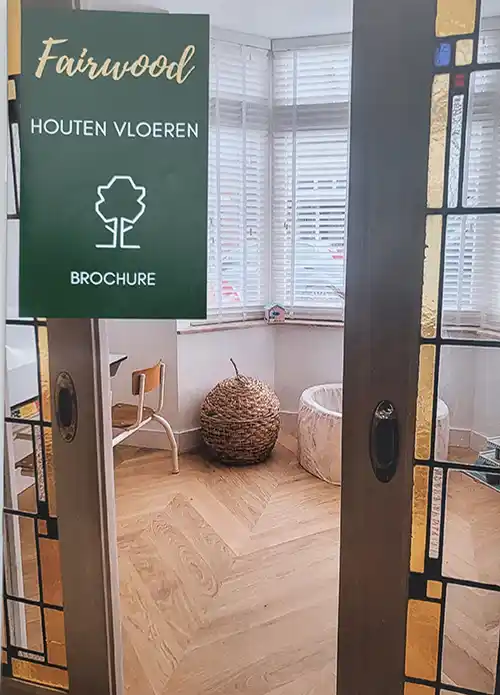 Discover the latest information about Fairwood's wooden floors.
What types of promotional floors are available and how long is the offer valid for?
Discover Fairwood's range of table models. Explore our current assortment here.